VOLTA BASEL 13 | ART FAIR | Basel
June 12 - 17, 2017
Magic Beans at Volta basel 13 : Basel´s art fair for new international positions.
For VOLTA Basel 13 Magic Beans is pleased to present Giuseppe Gonella and Seungmo Park. Giuseppe Gonella, an emerging painter from Italy, is interested in post-apocalyptic and dystopian themes. In his brightly coloured paintings, ethereal figures appear like ghosts. His ambiguous horizons seem like a mirage. The works are simultaneously both fascinating and disquieting.A stormy seascape is rendered with a vibrant, dynamic and figurative style that moves towards expressionism. The element that unites many of the works is the reference to fragments of memory and fleeting visions, translated in painting through the desire to keep a distance from a strictly mimetic vision. In contrast to the approach we see on television or in social media, destined to be rapidly consumed, his process in painting seeks to deal with these themes in absolute terms in order to treat them as genuine contemporary allegories. He uses poignant splashes of color to make existential content emerge, seeking evocations that are both intimate and universal.
Seungmo Park, a mid-career Korean artist, hand-crafts and cuts elaborate layers of mesh wire to create hyperreal scenes through a mirage of visual perception. This particular body of work is called "Maya" and alludes to its Sanskrit meaning "illusion". In it, he painstakingly recreates photographs into holographic wire sculptures with ethereal results. His aim is to construct scenes that transcend existence. The artist enacts a way of seeing beyond what is real and visible. Each piece is several inches thick and each plane that forms the final image is spaced a few finger widths apart, giving the portraits a depth and dimensionality that is difficult to convey in a photograph. In real life, they have an overwhelming presence and are hauntingly evocative - as if caught in between reality and a parallel universe.
The pairing of Park and Gonella creates a dynamic visual experience. The rich, colourful and layered paintings of Gonella juxtapose transcendentally with the monochrome hyper-realistic sculptures of Park. The dancing figures in Gonella´s painting create a velocity of motion that catapults them into the monochrome forest ofPark´s work.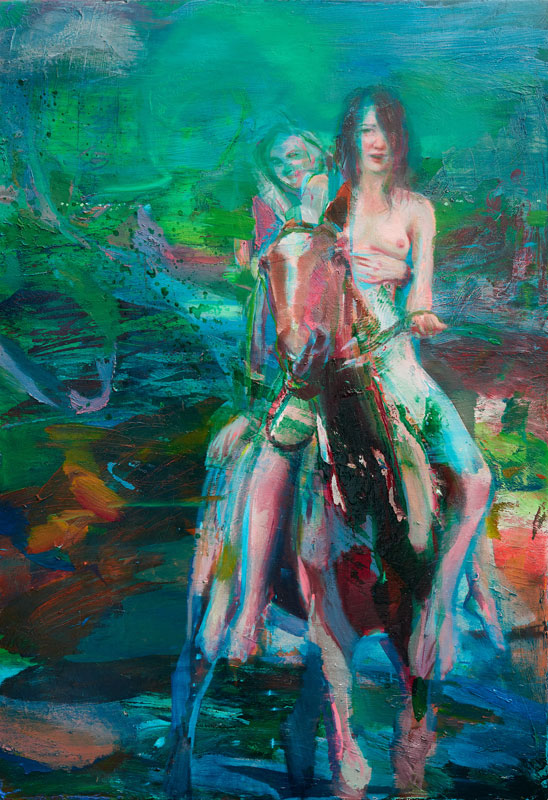 Waves Falling Towards Selfoss, acrylic and oil on canvas, 130 x 90 cm, 2017